SayIt Error: Audio Recording Too Short
SayIt Error: Audio Recording Too Short
---
Issue:
When I press my dictation hotkey in SayIt, a message displays that my audio is too short.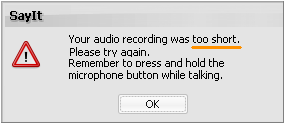 The voice client attempts to inform you when it does not detect good audio quality.
What to do:
Be sure to press and hold the dictation button while you record. Release the button when you are done dictating.
You may need to adjust the volume on your device. Click the Listen button in SayIt to hear your last recording. If necessary, adjust the volume on your audio device then try dictating again.
If you need to take a long pause while you are speaking, release the dictation button. Then press and hold the button again when you are ready to continue. Holding the button and recording when you are not talking may cause the voice client to detect an error and time out.
Speak clearly into your microphone.
Make sure the microphone is connected. If the microphone becomes disconnected, you will have to re-launch SayIt AFTER you reconnect the microphone.
---
What's Next