AgentAssist Error: Invalid User Name and/or Password
AgentAssist Error: Invalid User Name and/or Password
---
Share feedback
Thanks for sharing your feedback!
Issue:
When I attempt to log in to AgentAssist or nVoq.Voice I see a message that states, "Invalid user name and/or password."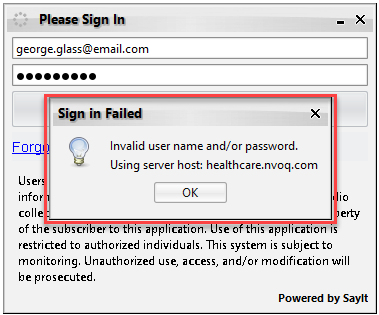 This message displays just after launching AgentAssist or nVoq.Voice if you are entering either the wrong username or password.
It can also display while you are logged in if your password was changed while you are still logged in to AgentAssist on another computer or on a virtual desktop.
What to do:
Be sure that you are entering the correct username and password. If needed, you can retrieve your username or reset your password. See Forgot Username or Password
If the message appeared after you were already logged in, close ALL INSTANCES of AgentAssist that you have running on all computers/devices/virtual desktops and log back in using your new password. AgentAssist checks your credentials (including password) each time you submit a request to the server. If your password is changed while you are still logged in to AgentAssist (if have multiple instances of AgentAssist running on different computers or virtual desktops), you will get this error the next time you try to connect to the server while you're logged in with the old password.
---
What's Next