SayIt Error: Windows Can't Open sayit.jnlp File
SayIt Error: Windows Can't Open sayit.jnlp File
---
If SayIt was launched from an executable (.exe) file instead of with Java Web Start, the instructions on this page are not applicable.
Issue:
When I try to launch the SayIt client I see a message saying Windows cannot open a file called sayit.jnlp.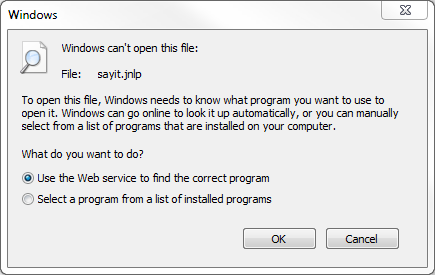 This message may indicate either that Java is not installed on your computer at all, or that your computer does not know to open the file using Java.
Each file type on your computer is associated with an application that runs it. Files of type JNLP are run by Java Web Start. Because Java Web Start opens the search application, when the JNLP files are associated incorrectly, the search application cannot open.
What to do:
---
What's Next