SayIt Error: Shortcut List is Empty
SayIt Error: Shortcut List is Empty
---
Issue:
When I try to use a shortcut in SayIt/AgentAssist I see a message that says, "Your shortcut list is empty."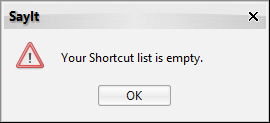 This message indicates that no shortcuts have been added to your organization or account.
What to do:
You may not have shortcuts enabled for your group, your account may be associated with the incorrect group, or your organization just may not have any shortcuts. Ask your administrator to check your account configuration and make sure that it is associated with the correct group and that you have shortcuts.
Your administrator can create shortcuts for you or your organization, or you can create your own shortcuts in SayIt.
---
What's Next