Issue:
I opened the My Shortcuts or Popup shortcut menu, but no shortcuts display or some are missing from the list.
What to do:
In the My Shortcuts window: Your shortcuts may be in folders. Click the All Shortcuts folder and then click the Organization Index and My Index to expand your lists of shortcuts.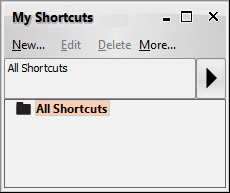 In the Popup menu: Your shortcuts may be filtered. Click the hamburger icon in the top right corner of the Popup menu and select Filter. Put a checkmark beside all folders to view all of your shortcuts in the Popup menu at once.
If your Organization Index folder (in the My Shortcuts window) or your Popup menu and folders are empty, you may not have shortcuts enabled for your group, your account may be associated with the incorrect group, or your organization just may not have any shortcuts. Ask your Administrator to check your account configuration and make sure that it is associated with the correct group.
---
What's Next