SayIt Shortcuts Not Working At All
SayIt Shortcuts Not Working At All
---
Issue:
When I try to run a shortcut in SayIt, nothing happens.
What to do:
Make sure you are pressing the correct hotkey or button to use a shortcut, and be sure you're not pressing the dictation button.Your Shortcut hotkey is listed in the lower right corner of the client window.

If you're trying to run a voice shortcut:

Make sure you're saying the correct shortcut name.
Check the shortcut name for typos.
If the shortcut name is an acronym and the letters are separated by a space, try saying the letters individually.
Try using the shortcut button (star) in the SayIt/AgentAssist client to see if that works. If so, there may be an issue with your hotkey or button on your microphone.

If you're trying to run a shortcut that Opens a Webpage, Application, or File:

Make sure that you entered the written form of your shortcut correctly. The client does not perform error checking when you configure the shortcut.
Test the URL or file path by copying the written form from the voice client and pasting into My Computer or your browser.
Make sure it is the correct shortcut type. Click on the shortcut in the My Shortcuts window and make sure it says "Application or File" or "Page". It should not say "Insert" - those will not open a webpage, application, or file.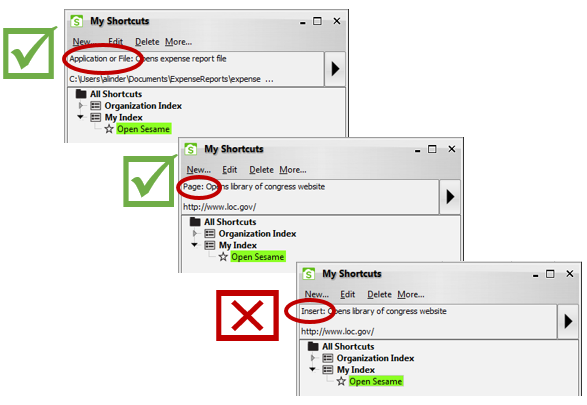 If the shortcut is configured to open a document, the document type must already be supported on your system.
Files on a network share should be accessed by a mapped drive letter or a UNC path, e.g. \\myServer\PathToMyFile.
If you're trying to run a Keyboard Automation shortcut:

Check which application is in focus when you are trying to run the shortcut. Some keyboard automations must have a specific application in focus in order to run.
Try toggling the F-Lock key and try running the shortcut again. Some keyboards have an F-Lock key that changes the behavior of other keys.
Check your Num Lock key. The Num Lock key changes the behavior of keys such has Home, End, arrow keys, and number keys.
The dictation and shortcut hotkeys are not allowed in a keyboard automation. Even if you have customized one of your hotkeys, the automation may not work.
Certain commands that are special Windows key sequences, such as WINDOWS L or ctrl+alt+DELETE, are not allowed in keyboard automations. Workarounds may be available and may depend upon your operating system.

If you're trying to run a HTML or Workflow Automation Shortcuts:

Make sure your account is configured to launch HTML shortcuts. The ability to launch HTML Automations (on Windows) must be configured for the account in nVoq.Administrator. See HTML Shortcuts on the Edit Account page.
Make sure you're not using a Mac. These shortcuts only run on Windows.
If you're creating a workflow automation, make sure that you entered the written form of your shortcut correctly. The client does not perform any syntax error checking when you configure the shortcut. Go to www.autoitscript.com to find extensive resources including examples, tutorials, function lists, and documentation. You can also download additional tools, including the AutoIt GUI, AutoIt-1-2-3, and helper writing tools.
Workflow automation shortcuts (including Triggers) run an AutoIt script, which could be blocked by antivirus software or a firewall. Check your client logs for this statement: Cannot run program "C:\Users\username\AppData\Local\Temp\sayit_shortcuts\SayItAutoIt.exe": CreateProcess error=1260, This program is blocked by group policy.
Ask your IT department to allow exceptions for SayItAutoIt.exe (used to launch workflow automations) as well as cefclient.exe (used to launch the original/older type of HTML shortcuts) or electron.exe (if you're using HTML Shortcuts Version 2 that run on Electron).
Ask your IT department to allow exceptions for two directories in your Temp directory (used to run HTML automations): sayit_html_script and sayitresources. (Note: If SayIt/AgentAssist was launched from an executable file instead of with Java Web Start, the resources to run HTML Automation shortcuts will be in a different directory (..\appdata\roaming\nVoq\sayitresources) than the one shown below.)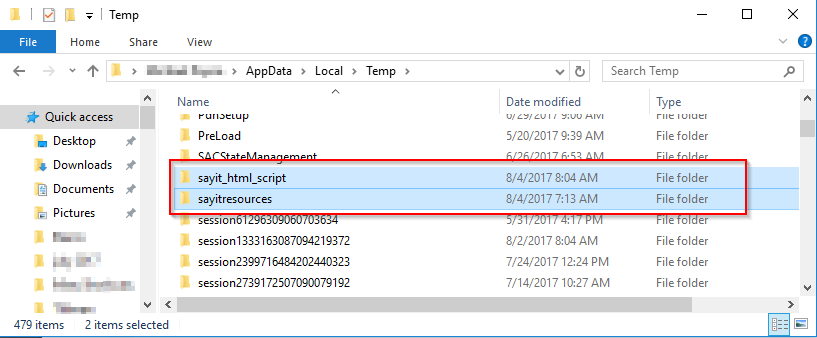 ---
What's Next