SayIt Error: Unable to Launch the Application
SayIt Error: Unable to Launch the Application
---
If SayIt is launched from an executable file (sayit.exe) instead of with Java Web Start, the instructions on this page are not applicable.
Issue:
When I try to launch SayIt I get an Application Error that says, "Unable to launch the application."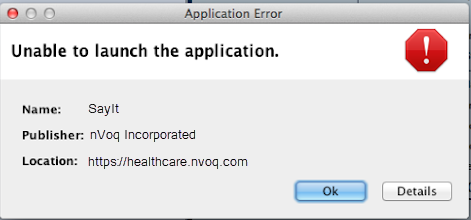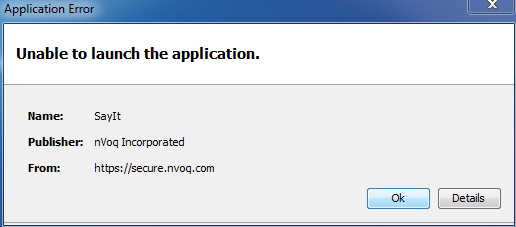 This is a Java error (not an issue with SayIt itself) that can have a variety of causes.
What to do:
If you're using a Windows computer you can launch SayIt using the SayIt executable file, which won't have this issue. See Launch & Log In to SayIt/AgentAssist Using SayIt.exe
If you are running SayIt on Mac or are unable to run the SayIt executable file but already have Java installed, see SayIt Does Not Launch
If SayIt usually launches automatically when you start up your computer, try the following:
First, try launching SayIt from the URL in your web browser to see if you are able to do that without a problem.
If you are able to launch directly from the URL, try deleting the SayIt desktop shortcut and/or the shortcut from the Startup folder, and re-adding it.
If you are still unable to launch the voice client, try deleting your Java cache and then re-launching the voice client.
---
What's Next